As you may or may not know, I was recently sent a
Magnitone Pulsar
* to test and review! I tried to keep up with a daily blog diary of my progress but that soon got a bit tedious and potentially boring for you all (even though I could talk about this thing all day long!). But now the time has come for my final verdict!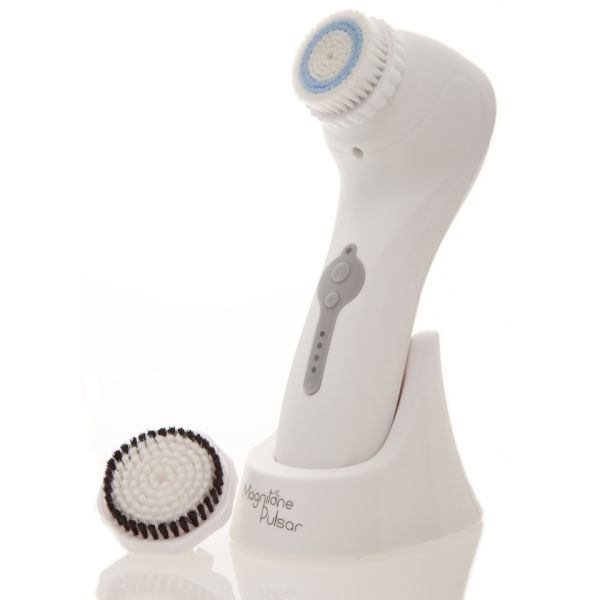 At first I was tentative, and almost sceptical. My skin has always been troublesome in one way or another. Since hitting "proper" adulthood I've had worse breakouts than when I was a teenager, and my pores are always so clogged. I must admit, I'm a bit rubbish when it comes to skincare. I spend lots of money on "miracle" creams, lotions, gels, washes, you name it! I then use them for a week (if I'm lucky) before forgetting to use it a few times and then just giving up completely. I always take off my makeup before I go to bed however, but I'm no good at sticking to a lengthy routine, especially those involving me slapping water all over my face (and all over the bathroom floor)! I want instant results. If I see no improvement instantly, whatever it is gets condemned to the box of no return.
So, I'm a tough person to please when it comes to my face but of course, I was super excited when my Magnitone came in the post! I put it on charge straight away! One thing I will say here is that to charge it, you have to put it the way round that you think it shouldn't face in the base. I was convinced I had a dodgy charging base but it just turned out that I didn't look at the instructional pictures properly before hand and everything came to life just fine once I'd put it round the right way! Oops! It also takes a long while to charge (15 hours ish for a full charge) but that's absolutely fine if you are comfortable leaving it on charge during the evening and over night.
In true "me" style, not wanting to introduce too many influential variables into my now, seemingly scientific test, I bought the absolute cheapest cleansing wash I could find in Superdrug to use with it. I didn't have any cleansing wash at home so I needed some if I was to use the Magnitone correctly but I didn't want to get one that promised to improve my skin too much. I wanted to be sure that it was the Magnitone working any potential magic, and not the fancy face wash.
The first time I used it was in the evening. I took off my makeup as usual with a face wipe, then took myself, my cheap face wash, and my Magnitone into the bathroom. At first, it was a very very strange sensation, one that I cannot even describe! Not scratchy, well, almost, but in a good and pleasant way. I however found very quickly that you need to make sure the brush remains wet whilst you use it otherwise the friction between your skin and the brush doesn't feel so good, but this isn't exactly surprising! I was amazed to see during my first use that the brush was stained orange from my foundation; the foundation that I had just removed! Clearly there was a lot of makeup remaining on my face each evening so no wonder my skin was a bit of a state, if that was building up more and more every day! After using the brush for the recommended one minute, I rinsed my face and patted it dry with a towel. Instantly my skin felt so smooth and clean! You know those instant results I was looking for? I found them!
After this I started to use the brush twice a day. I even changed the head and used it on my arms and legs in the shower. I get very dry elbows and knees so I focussed it on these areas. After just one use they were feeling far less dry which was amazing. On my face I could see that the size of my pores was slowly starting to decrease and my makeup was going on like a dream on my new super smooth skin! A few spots started to rear their heads but none of them turned into anything nasty and it was just my skin adjusting to the new regime.
I started off doing so well, but then I moved back to university and started forgetting to use it! It just started sitting pretty on the top of my bookcase while I went back to my halfhearted face wipe usage before falling into my bed. After a few days of not using it, my skin started to try to return to its old state of clogged-ness. It is perhaps only at this point when you realise how great your skin was looking, when you see it deteriorate. Sure enough, I was soon back to using the Magnitone Pulsar, and from the first use my skin was heading back to greatness!
The Magnitone Pulsar provides instant results and continued improvement. We're all human and will forget or be too lazy from time to time to use it, but when you do, you will remember why you love it so much. I have committed myself from now on to use it on my face at lease every other day to keep it fresh, clean and smooth. This is something I'll definitely be sticking too. When I've been using it I've looked so much healthier rather than having a grey, tiredness to my face. I really have never seen such a vast improvement to my skin in all of my years of buying this cream and that cream!
I definitely recommend the Magnitone Pulsar to anyone at all that is interested in keeping their skin in good condition. It comes with a sizeable price tag (£129.99 at full price) but when I think about it, this really isn't that bad! Over the years, how much have you spent on face products that have promised so much, yet delivered so little? Having used cheap as chips cleanser with mine, and seeing such great results, I have proven that you don't need to go spending heaps of money on facial washes when you have the Magnitone to pair it with! In fact, over time, you'll probably save money because you won't be on the life-long hunt for "that" product that is going to transform your skin, because you already have it! The Magnitone Pulsar. Created and sent down by the skin Gods!
If you can afford to get one right now, I implore you to do so! If not, stick it on your Christmas / birthday list! You definitely won't regret purchasing this, and already, I never want to be without it!